L'idea di lavorare nel web 2.0 è sicuramente tra le più allettanti per molti studenti che vanno mettendo le basi per un futuro radioso (magari con una bella tesi 2.0, pay per tweet incluso), tanto che si comincia già a parlare di wwworkers. Le università forgiano quindi comunicatori, informatici ed economisti dell'innovazione, ma cosa chiedono le aziende? Un rapido giro nella sezione "lavora con noi" dei principali media sociali potrà chiarirci le idee:

Facebook
Più che per le posizioni aperte Facebook si distingue per la categorizzazione degli ambiti in cui è possibile trovare lavoro presso il social network, un listato che ci spiega quali spazi elettivi possono in qualche modo entrare nell'orbita del 2.0:
Software Engineering
Product management
Design e User experience
Sales e business development
IT & security
Technical Operations
On line operations
Communications e public policy
HR e recruiting
Legal, finance, facilities & admin
Growth e internationalization
Platform e product marketing
Le posizioni aperte sono diverse, dal product manager al data analyst, dal classico account manager al journalist program manager.
Foursquare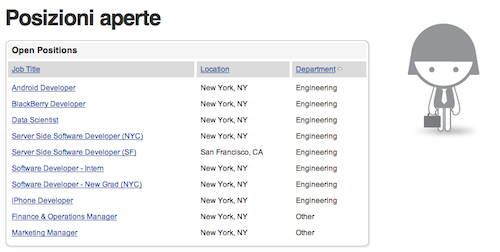 Il geo social local network 🙂 per eccellenza è molto meno pomposo e più diretto (direi più giovane) nelle proprie ricerche che sono ben visibili al primo click:
Android Developer
BlackBerry Developer
Data Scientist New York
Server Side Software Developer (NYC)
Server Side Software Developer (SF)
Software Developer – Intern
Software Developer – New Grad (NYC) New York, NY Engineering
iPhone Developer New York, NY Engineering
Finance & Operations Manager
Marketing Manager
Il focus in questo caso sembra molto più orientato alla tecnica che al commerciale quasi a dire "continuiamo a fare bene, poi troveremo il modo di fare i soldi".
Twitter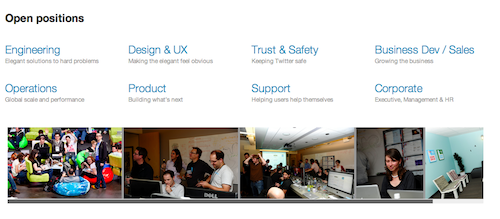 Anche twitter sposa il modello di Facebook e le posizioni aperte sono davvero tante:
Application Security Engineer
Data Analyst
Developer Advocate, Platform
Fraud Analyst
Infrastructure Product Manager
Software Engineer – Ads
Software Engineer – Front-End
Software Engineer – Japanese Mobile Clients
Software Engineer – Mobile
Software Engineer – Search
Software Engineer – Systems
Software Engineer – Test and Quality
Software Engineer – Tools
Technical Writer, Developer Services
UI Designer
Policy Support
Spam Support
Ad Sales Research Manager
Inside Sales, Account Executive
Mobile Partnership Program Manager
Partner Manager
MySQL DBA
Network and Infrastructure Security Engineer
Network Engineer
Network Project Manager
Operations Engineer
Operations Technical Project Manager
Senior Operations Engineer
Technical Supplier Negotiator (Datacenter Hardware)
Product Manager, Order to Cash
Product Marketing Manager, Platform
Business Analyst, User Support
Help Desk Administrator, User Support
User Support
User Support, Ad Operations
Communications Coordinator
Financial Analyst – Operations
Legal Counsel
Recruiter
Senior Accountant, Fixed Assets
Google

Chiudiamo con Google la nostra panoramica, già la sede di Milano offre spunti eccellenti:
Account Manager Technology Media and Entertainment – Milan
Agency Relationship Manager – Milan
Communications Associate (B2B) – Milan
Content Partner Manager, Music, YouTube – Milan
Doubleclick Rich Media Campaign Manager – Milan
Enterprise Applications Sales Manager – Milan
Enterprise Search Sales Engineer – Milan
Enterprise Search Territory Sales Manager – Milan
Enterprise Technical Account Manager – Milan
Facilities Specialist – Milan
Industry Analyst – Milan
Industry Manager, CPG – Milan
Legal Counsel – Milan
Legal Intern – Milan
Manager SEEMEA Media Management Team YouTube and Display -Milan
Media Manager, YouTube and Display – Milan
Media Platform Account Manager – Milan
Policy Analyst, Italy – Rome
Product Marketing Manager, B2C, Italy – Milan
Senior Policy Manager – Milan or Rome
Technical Account Manager (YouTube) – Milan
Video Sales Specialist, YouTube – Milan
YouTube and Display Account Manager, IT – Milan
Che dire? Sono personalmente colpito dal rapporto 4/1 tra figure tecniche richieste e figure commerciali / di comunicazione. Anzi oserei dire che PR e comunicazione vengono piuttosto sacrificate per lavorare sempre e comunque sulla piattaforma. Anche altrove le cose non cambiano, Gowalla cerca 4 developer, Miso uno stagista, un developer e un designer di user experience e Instagram un Iphone developer e un experience desiger. Anche Linkedin conferma la tendenza.
Come ne escono le nostre strutture formative e i social stessi? Urge premettere che questo post avrà senso solo se e quando completato da un secondo momento di approfondimento sulle figure più cercate dalle agenzie, sicuramente è la che troveremo i social media strategist e specialist e gli account. I grandi player americani danno però una chiara indicazione: non si stanno strutturando commercialmente. Se volete andare da loro (ma anche, mi viene da dire, se sognate la silicon valley) imparate Ruby on rails e studiate la user experience, se invece è la vita d'agenzia che cercate, muovete i vostri sforzi intellettuali su pr, accounting e comunicazione. Pensiamoci su..
Immagine: resumebear.com